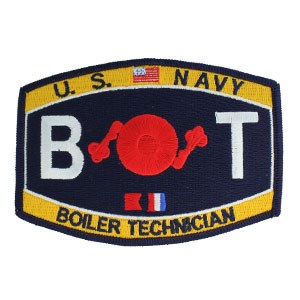 Raging fires in a glass to look through on a boiler front ,painted silver and reflecting back at me, metal plates, beneath my feet, with diamond designs, not so unique. The pumps and the valves all have their own special roar, and the fluorescent lights go on, forever more.
The life of a boiler man in the Navy is boring, yet rewarding and sometimes crazy. A call comes down we are shifting speeds, more burners, more burners is what we need! My hands flying over air registers and valves, as I lite more burners and the pressures rise. The water level fluctuates as the steam is pushed to the main engines and the shaft on the lower level speeds up more. This is the life onboard a ship for the Navy, oh so grand and more. The machinery roars and the fires too, even more the commands shouted down in the pit, fire room, as we call it, come to my fellow sailors and we move with speed, for we know ,it is what the ship, does need.
A boiler front is a large silver panel of steel you see, with burners sticking out back at me, the air register handles you use to flap and then the valves to allow the fuel in you see, all are memories for men like me. So many pieces of machinery, in constant motion to make one ship sail the ocean. It's what we do to keep our country free. Who are we, but the Engineers of the U.S. Navy? Boiler Technicians they call us you see, each a different pay grade and level working together to keep our country free, it seems so amazing to me.
If you were to feel the heat, and feel the steel beneath your feet, like a breathing monster so unique, you would swear it was all alive you see, for that is what it was, for so many, like me. We sweated and we bled to make sure no American would be killed or end up dead!
So, when you see on CNN, a Navy ship has arrived somewhere again, it's the men who are down here below, yes the ones they say live in The Hole, that in the end make the Navy go. We sweat and moan and sometimes hurt down to the bone, but we make the steam to get us there and in the end back home, because we care. We don't serve to be happy or gay; we serve the Navy each in our own way. While we steam along and around the world, it is of our families and loves we do think, for we want to go home and see them in the pink. We do it so our children and parents and more, can live a life free, for evermore.
So when you see a veteran like me, who walks bent over or stumbles you see, stop and think of what they sacrificed, just so you can live free and so nice!. Freedom is not for free, just ask the disabled Veterans like me.
By: William M. McCurrach